I am writing to inform you of an urgent appeal Australian Mercy has launched.
Today, many people in Ukraine are facing some of the greatest traumatic experiences they have ever gone through.
In response to this crisis Australian Mercy has launched a Fundraising appeal. We are in the unique position of having a broad range of contacts in Ukraine and in the Eastern European nations they have fled to. Through our network of partners, we are able to channel funds right to the root of the problem.
For Australian taxpayers, all donations to Australian Mercy are tax-deductible. With the exception of a 5% administration fee, all donations will go direct to the people on the ground who need them most.
Additionally, for every dollar you donate Australian Mercy will match that – up to $10,000 – so please give generously!
God Bless you and thank you for helping the people of Ukraine. Visit our website or facebook page for updates and ongoing information.
Kent Truehl
Managing Director, Australian Mercy
PS – From our partners in Ternopil, Ukraine we receive daily news. Below are a few reports of what they have done and what your donation will help them to continue doing:
Reports from Our Friends in the field
18 April
Anya (Kyiv) "Kharkiv, Donetsk, Lughansk, Mariupol, and the smaller towns and villages!! It has started!! Please stand and pray for the East of Ukraine."
Project "BREAD"
"Sasha had to flee from Crimea in 2014. He now lives in the U.S. but returned to help his former staff mates in Ternopil. Flour is produced at a mill in Ternopil, and then sent to the eastern part of Ukraine, the city of Chernihiv, for baking bread and free distribution to all those in need! The photo below shows flour that has already reached its destination. Next week for Orthodox Easter, the bakery will bake and distribute decorated Slavic Easter bread as a celebration of Easter."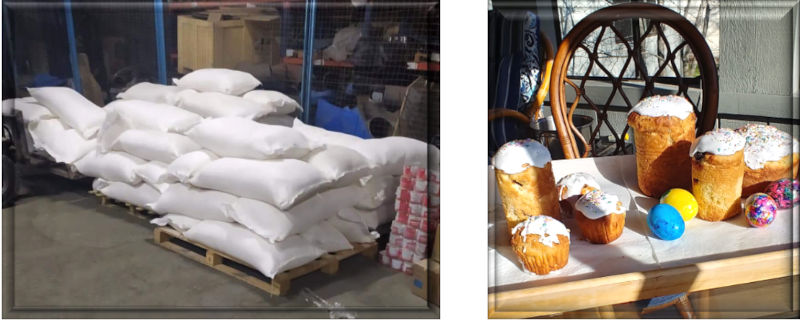 Images - $1000 for 3 tons of flour and Slavic Easter Bread
12 April
"This is the second time I've come to this village. They all greeted us with smiles and joy on their faces, despite the gloom, in their hearts. When I was handing out packages, I noticed one thing: before they take a grocery set, a flashlight, shampoo, diapers, etc., they think about their neighbours. Each of them lets each other go forward, even though the man was standing in front of the man behind him. I was surprised how this war situation did not affect humanity and love for others. And surprised how such a small village teaches such a great example as: "love your neighbour as yourself…"
11 April
From Ternopil:
"Today we rescued 27 people and delivered 160 bags to the liberated village in Kyiv region. We got so much awaited humanitarian aid this evening and tomorrow morning with fresh energy will unload it. That means that we can reach out to many people and help them to have basic things. Our drivers left to the East of Ukraine for evacuation runs and have been driving 40 people out to safety since yesterday. They are in a major need of Gods protection. They are literally risking their lives, but also saving the lives."
9 April
"The team arrived at the train station just two minutes after the station was bombed. Fortunately, the team was okay. They immediately began to help and transport people out from the station…God Bless you and thank you for helping the people of Ukraine.