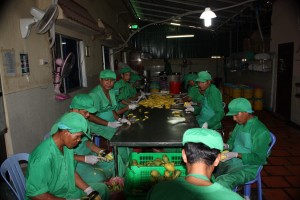 I want to tell you about an act of amazing generosity.
Last week I was in Cambodia at Cambodian Harvest a project we have that trains and employs land mine accident survivors. (www.cambodianharvest.com)
As I was visiting I was asked tell the staff at Cambodian Harvest about  some of our other projects so as Mae-la camp has many landmine accident survivors resident in the camp I spoke about how the refugees live and how the rice was cut in November 2013. I spoke of the increase in malnutrition and disease. To my utter surprise Before I left I was given an envelope with $700 in it.  This was a donation not from the ministry but from people inside the ministry who wanted to do something to help the refugees.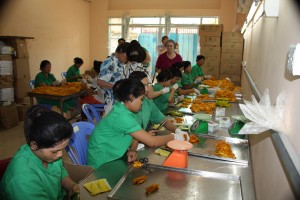 With these funds I have been able to buy rice and medicines and personally deliver them to the camp. As I sat with our refugee staff, they thanked me for the rice and medicines , I took a few minutes to explain to them that the rice and medicines were given to them by people in Cambodia who had suffered serious injury from landmines who wanted to help them. All the chatter at the table stopped, in Mae-la camp there are many people who have suffered from landmines in fact one was sitting at the table with us.  Paw Htee Khu (the leader of the preschool ministry) was visibly affected, and said with a big smile "David please say thank you very much to those kind people in Cambodia who have done so much to help us."
This donation has deeply affected me, the kindness shown by one group of people who are only just emerging from a life of pain and isolation caused by landmines are reaching out to others who are totally unknown to them but in a worse position than themselves.
This is a remarkable act of kindness!
If you would like to give to our rice appeal for the refugees at Mae-la camp donations can be made via our secure site – please select Burmese Refugees as the donation target and write Rice Appeal in the notes feedback box below.
The current statement by the Australian Mercy Board on appeals and donations can be viewed here.