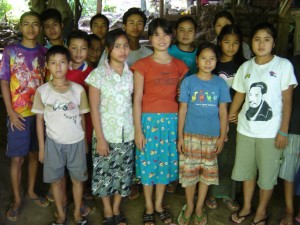 A youth based ministry from the Anglican church in Launceston is preparing to send a team to teach English at Mae-la camp.
The team will be there in late September early October and will be teaching classes to both students and teachers in the camp.
English is important especially to refugees who are moving to English speaking countries. By learning English in the camp they willtransition better in to English speaking countries.
English is also the international trade language and main language of the digital age. In Myanmar there are very few websites in the  Burmese language. So understanding English is a key educational need for the refugees at Mae-la whether they end up going to a country like Australia or eventually return to Burma.
English is taught in most schools in the camp, but the teachers of English are not good speakers of English and therein lies the problem.
A previous team from Australian Mercy found that there is no phonics based teaching of English in the camp. This complicates the speaking and understanding of the English language immensely.
When asked what he had for breakfast that morning one little boy said that he had E.G.G.S. he could not say the word eggs because he had never been taught any basic phonics.
The team will be teaching about 150 children and 70 teachers in the two weeks they are in the camp. This two weeks of teaching will provide a significant boost to schools in the camp and will help to improve the standard of English that is taught.
The team will leave behind materials and helps that will aid teachers in the schools to be better speakers and teachers of English.
Support for this trip can be made via the Australian Mercy secure site.
Just select Mae-la refugee camp from the menu and type the words English Teaching in the notes box.
Your donation will help to make this outreach a success and will improve the standard of English teaching in schools in Mae-la camp.